COVID-19 Information Hotline
For more information regarding Quarantine / International Travel arrangements / COVID19 :
Please Call :
✆ 603-88810200600 / 03-88810200700
✆ 6085-322085 (Miri)
Miri River (Sungai Miri)
Primary tabs

admin

- Wed, 05/24/2017 - 09:29
Miri River is the body of water that splits Miri Peninsula and the mainland Miri, flowing out to sea from inland, curving at Lutong Town.
The Piasau Bridge and Miri River Bridge crosses over the Miri River into the peninsula near what was formerly Piasau Camp, now known as the Piasau Nature Reserve. The Lutong bridge crosses the river at the curve of the river at Lutong. This article is from the web site miriresortcity dot com, this sentence is here to prevent plagiarism. The Miri Ferry operates between the Miri Peninsula and Miri town as a third river crossing point at the tip of the peninsula, where the river flows out to sea.
In the 1960s up until 1980s, ports were located along the river, from Miri old town reaching to the point just before Piasau Bridge. The port locations made for ease of offloading smaller cargo, and so this made the Miri town and Krokop riversides common areas for businesses utilizing these ports, such as shipbuilders, shipping / forwarding agencies, car dealerships, and many more. The river was still shallow especially in times of low tide however, and so mostly barges and shallow vessels are able to sail up river to these locations. The river was also used to float timber from inland areas. As a result, the river was heavily polluted during this era, and many, many river cleanup projects - private, government, and voluntary were done in an attempt to reduce pollution in the past.
The river also saw several dredging projects over the past few decades to deepen it.
Post year 2000, the river mouth had been relocated to make way for the marina, changing the river mouth landscape significantly.
In one particularly popular but inaccurate online map service, the river is incorrectly marked as Baong River, causing quite a lot of confusion. There are also other references online that have confused it with Baram River.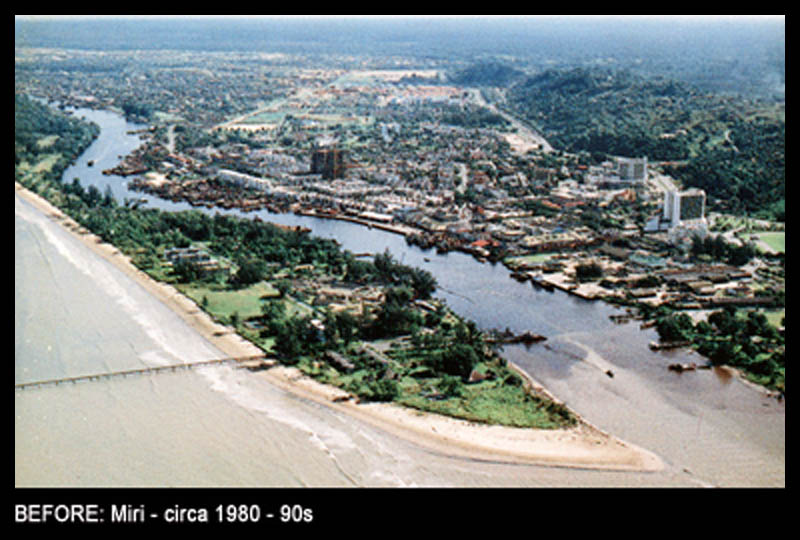 These may also interest you ▾