COVID-19 Information Hotline
For more information regarding Quarantine / International Travel arrangements / COVID19 :
Please Call :
✆ 603-88810200600 / 03-88810200700
✆ 6085-322085 (Miri)
Tanjung Lobang & Taman Selera at Brighton Beach
Primary tabs

admin

- Sat, 06/20/2015 - 15:10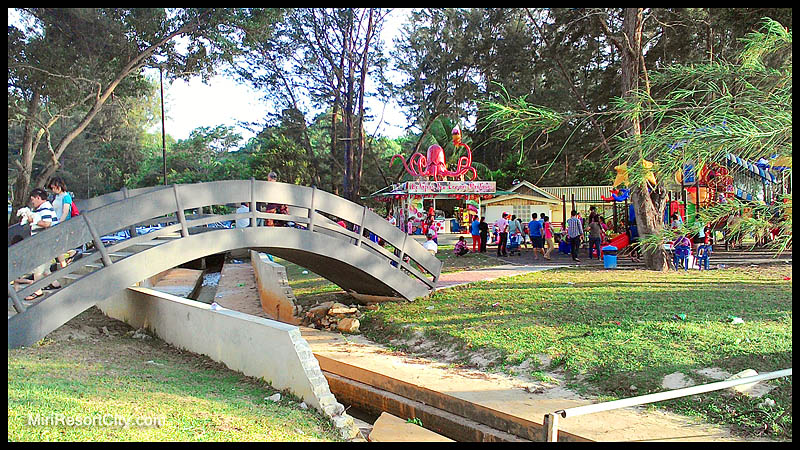 Taman Selera and Brighton Beach is situated in Brighton Road about 3KM from the city center at Tanjung Lobang and is one of the older beach areas in Miri that was developed as a public area that has a park and food stall area. Besides the sand beach, children's playground and outdoor facilities, there is an open air hawker center which is a popular eating place with all sorts of delightful local food. Enjoy the beautiful sunset and feel the cool sea breeze as you listen to the sound of the splashing waves.
Piers built in the mid 2000s were damaged by the strong waves and winds of the sea by 2012.
Taman Selera itself was officiated in 1974. In the early days, there is a skating ring for the skating fad during the late 70s to early 80s and shelters and rest huts for picnics and barbecues.
Today this place has been completely renovated to include a large commercial buildings housing fast food franchise restaurants. Future plans include a seahorse-shaped breakwater in the water in front of the beach with a "water-village style" chalet house resort.
Currently, there are no lifeguards at the beach, precautions are needed near the water as currents are strong. Swimming is not allowed in the sea.
 
Tanjung Lobang is named for the famous cliff that runs all the way along Canada Hill that ends at a cliff jutting out into the sea with a cave known as the Tanjung Lobang.
Old local legend had it that a cave ran from Tanjung Lobang to Pujut, inhabited in the former days by two ferocious tigers so predatory that, from time to time, a young girl had to be thrown to them to appease their wrath. Such tales are mostly forgotten nowadays, and certainly no recorded evidence of any young girl sacrifices made were found.
#tanjunglobangmiri
These may also interest you ▾